Traveling is always interesting from time to time. One of them traveled to Switzerland. Of course, there are many recommendations for things to do in Switzerland that can add to the excitement of a holiday in the country. However, for tourists who are still new, it is certainly difficult to know which activities are the right ones to choose from. Therefore, this article provides information about interesting places in Switzerland as well as what to do while you are here.
Visiting Chillon Castle
One of the top things to do in Switzerland is to visit Chillon, one of the most popular historical sites. It is unquestionably worthwhile to explore this water castle on the shores of Lake Geneva with your friends, family, or significant other.

The castle, which is surrounded by two ring walls and has 25 structures and three courtyards, welcomes more than 3,50000 visitors annually. You may reserve the castle for a variety of special events, such as birthday celebrations and beach barbecues, in addition to simply appreciating its splendor.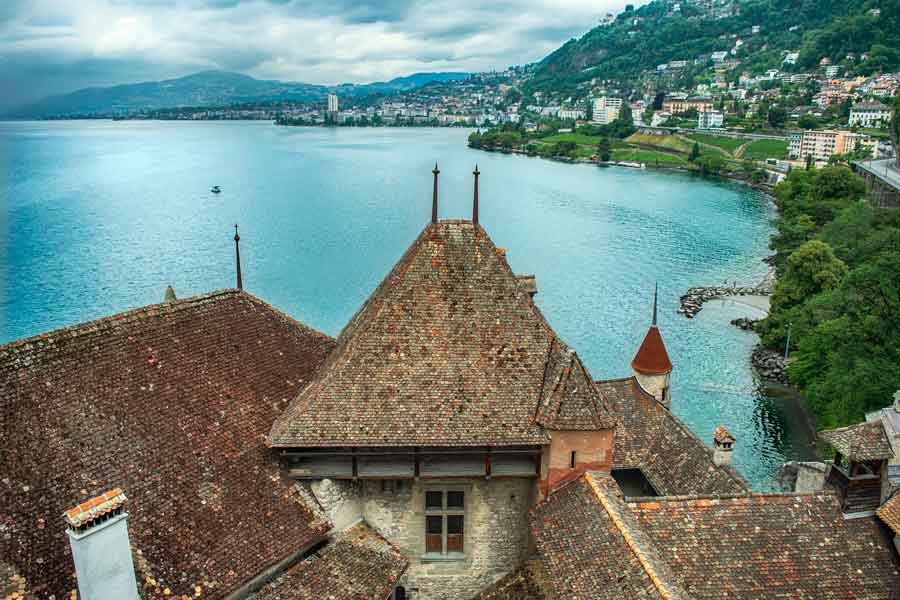 Rhine Falls Boating
Try this if you're wondering what to do in Switzerland. The Rhine Falls are the main attraction of Schaffhausen and unquestionably one of the top things to do in Switzerland. This location draws a lot of people since it is so well-known and incredibly exciting, and it offers them the ability to go closer to the falls through boat tours, observation platforms, and an adventure path.
You may either sit on the platform with your significant other or friends and take in the captivating beauty of the cascading water, or you can take a boat to the rock amid the falls for a heart-pounding view.
See Video How To Easily Send Money International with Transfez
Sky Dining at Eden au Lc's Sky Bar
One of the most thrilling things to do in Zurich is this. Regardless of whether you're on a family vacation or a romantic break, Eden au Lac's Sky Bar is the spot you must come for lunch or dinner if you want rooftop restaurants that offer a sophisticated atmosphere, delectable cuisine and beverages, and breath-taking views of the lake and the city.
It is without a doubt among the best roofs in the city and one of the top summer activities in Switzerland. Enjoying your favorite food and drink while taking in the cool air and picturesque splendor of Lake Zurich will help you relax and rejuvenate.
Send Money Easily to Different Countries
How to Send Money to Hong kong
How to Send Money to China
How to Send Money to Malaysia
How to Send Money to Japan
See the Wonderful of Lake Geneva
While each person has a different motive for visiting the well-known Lake Geneva, yours may be the excitement of trying stand-up paddle boarding. Yes, Geneva may also partake in the widespread Hawaiian obsession.
All you have to do is paddle across the sea while standing erect on a long surfboard. This adventure sport is one of the top things to do in Switzerland and a pleasant way to travel because of the sporadic falls you encounter. Other water activities available at this lake include wakeboarding and windsurfing.
Try Bernina Express Ride
While there are many ways to take in Switzerland's breathtaking landscape, taking a train trip is by far the most stunning. It's a fantastic way to move around and take in beautiful surroundings with your eyes. Take the renowned Bernina Express, renowned for its leisurely pace and panoramic view windows, to get the most out of this sightseeing.
The Swiss Engadin Alps are crossed by the railway as it travels from Chur (or Davos) in Switzerland to Poschiavo in Switzerland and Tirano in Italy. It also travels beside the Rhaetian Railway, a World Heritage Site in the Albula and Bernina Landscapes, so you know you have a solid four hours to unwind and take in the scenery.

Enjoy Lakeside Promenade
This is the best inexpensive activity in Switzerland if you're seeking other things to do in Switzerland. One of the nicest things to do in Zurich is to stroll along the lakefront promenade with your significant other. Learn about local customs and lifestyle as you stroll hand in hand.
People visit this location to stroll, bike, inline skate, relax by the coast, and take summertime dips. Among the various activities available here are watching street performers create trompe l'oeil chalk paintings, shopping for handcrafted jewelry at street vendors, and relaxing on a bench with ice cream.
Mountain Biking
Mountain biking is one of the finest activities to do in Switzerland if you like to get your heart racing and want to spice up your vacation. Rothorn is where you may test this out. You may bike to Zermatt from there. This bike tour route will enhance your trip to Switzerland and provide you with the opportunity to bring back some incredible adventure tales.
Swimming at Rhine River
You will enjoy the ideal swimming experience if you are in one of the cities where the Aare River, a tributary of the Rhine, flows! People frequently swim while they are in Bern. When visiting Switzerland during the summer, especially, you should visit Marzili's public baths for the ultimate experience.
Download Transfez App
Transfez App can help you transfer money abroad more quickly and efficiently. Transfez Business can also help your business in making transactions abroad. For those of you who want to send money to relatives who are abroad because they are studying, working, or traveling, Transfez will be ready to help. This app is available on Android as well as iOS.
That's some information about what things to do in Switzerland while on vacation in that place. By getting the information above, of course, planning a vacation in this country will be much easier. Many interesting ideas can be used as well as many places that can be planned to fill vacation time.