How much money do you need if living in London? Staying in London needs suitable preparation. One of the important things is to prepare all the necessary costs while staying in this city. London is one of a country with a high cost of living. Therefore, the average cost of living in London can be quite high compared to other countries, mainly Asian countries.
Some expatriates who decide to move to the country will need a preliminary overview of this cost. Therefore, any information related to accommodation cost, transportation cost, meal cost, and any other typical cost will be necessary. To give an explanation related to this cost, the following paragraphs will help to brief the information.
Transfer Money Easily to Different Countries
How to Transfer Money to United Kingdom
How to Transfer Money to Germany
How to Transfer Money to United States
Average Cost of Living in London for Accommodation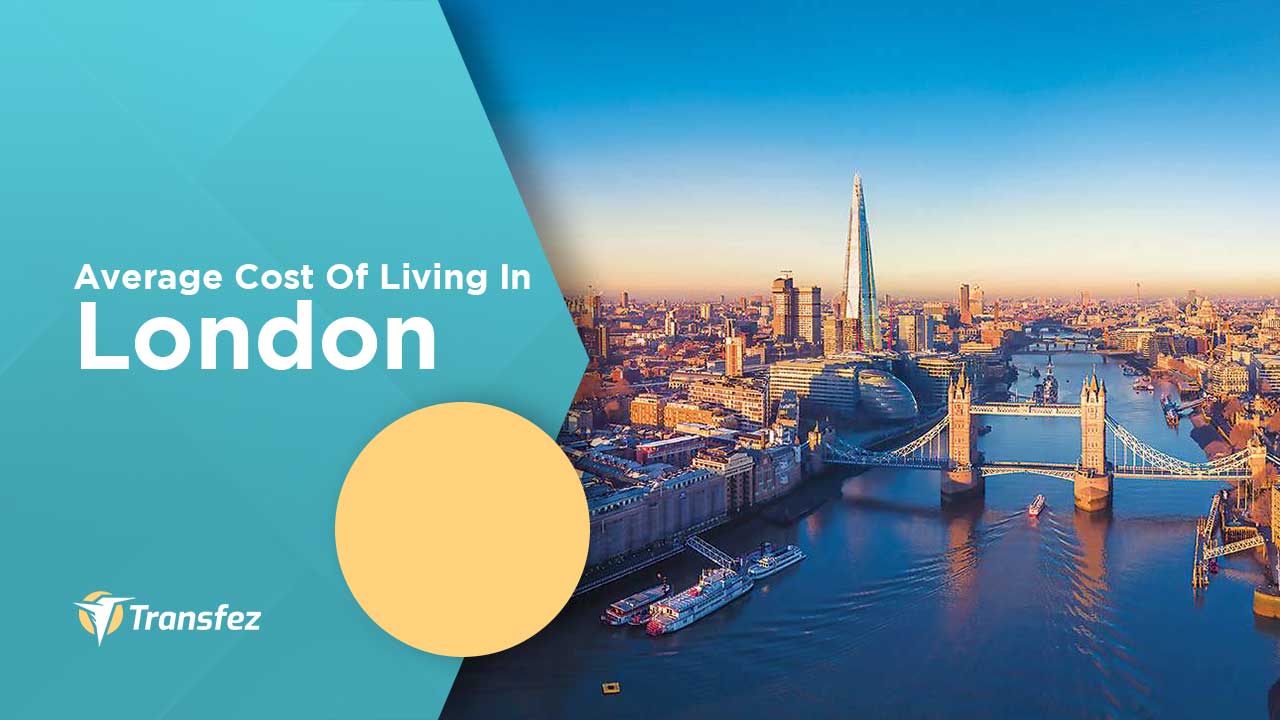 One of the important things to consider when moving to London is the accommodation place. You need to carefully select which place is suited to your living place requirement. So that you can count the average cost of living in London in terms of this accommodation.
If you are single, then you will need a suitable unit of the apartment to stay. Usually, you can have a choice to stay in a studio apartment. Otherwise, you can select share unit two or three-bedroom apartments with other people. It is a common thing in the UK.
Usually, the cost of a studio apartment is around 1,800-pound sterling. While apartments with two or three-bedroom cost up to 2200-pound sterling. A different way for a family who will need a house or at least a two-bedroom apartment. The cost for rent a house can be more expensive, up to 3,000-pound sterling. Therefore, it is important to define whether you move to London alone or bring your family. It will define the total accommodation cost needed.
See Video How To Easily Send Money Overseas
Average Cost of Living in London for Transportation
Another average cost of living in London which also important to know is the cost of transportation. These costs can be various depending on the type of transportation preferred. Usually, most people will use public transportation for a lower cost. Since the average cost of living in London for transportation is around 3-pound sterling for a one-way ticket. While monthly tickets will cost around 150-pound sterling.
It is a different cost when you decide to use a taxi. Since it is expensive compare to local transport. A starting fare of a taxi will cost 29-pound sterling. Therefore, it can be more expensive when you decide to drive a further distance. While buying a car can consider expensive at first. Since you need to spare money to buy the care. But, the price of each liter of gas petrol in the UK only costs 1.7-pound sterling.
Average Cost of Living in London for Meal
One of the main needs in any country is related to the meal. The cost of the meal can be various for each person. This is depending on your preference for your daily meal. You can select to have a fast food meal which will cost 8-pound sterling per menu. In case that you prefer to have lunch in a restaurant, you need to spend more.
It is always more economical if you decide to cook your meal. Since the price of groceries in London is average. Therefore, if you don't have much money to live in London, cooking is your best option to select. Averagely, one person can spend around 400-pound sterling per month if decide to cook the meal. But, if you prefer eating outside, you may spend up to 600-pound sterling per month or even more.
Through this information, it can be seen that the average cost of living in London is a minimum of 400-pound sterling for a single person. While a family may spend a minimum of 1200-pound sterling per month. So that you need to make sure that this amount of money is available to cover your meal every month.
Average Cost of Living in London for School
Another cost that needs to consider is the cost of school or education. If you come to London to reach your degree, then you need to find out the cost of your tuition fee. Since each university in London might charge different tuition fees. Therefore, you shall get a preliminary overview of the cost before you come to London.

If you decide to stay in London with children, then you also need to consider the school fee. It is also a different charge applied for each school. Therefore, you need to make sure to select a suitable school that fits your budget. As an overview, one child can spend around 2000-pound sterling per month to get a formal education such as in preschool or primary school.
Transfez App can help you transfer money abroad more quickly and efficiently. Transfez Business can also help your business in making transactions abroad. For those of you who want to send money to relatives who are abroad because they are studying, working, or traveling, Transfez will be ready to help. This app is available on Android as well as iOS.
 
Those all some information of the average cost of living in London, including the overview of accommodation cost, an overview of transportation cost, and another important cost in the city. With this information, then anyone who plans to move to London can estimate how much money to spend every month. Furthermore, it can also be a good way to estimate their income. So that it can comply with their monthly needs.