Not many people in Jakarta might know about the Bank of China Jakarta. This Bank originating from China apparently has just operated and opened a branch in Indonesia, precisely in the city of Jakarta.
This bank is one of the international banks that is worth considering. But unfortunately, not many Indonesian people are quite familiar with the service until its existence. To help provide detailed information about this, here are some explanations related to the Bank of China Jakarta.
Background of Bank of China Jakarta
The first thing that people in Jakarta may want to know is about the background of the Bank of China, until when branches in Jakarta are established and what the services look like. Of course, answering this will require a long time of information. Related to the background of the establishment of this bank and why choose Jakarta as its branch in Indonesia.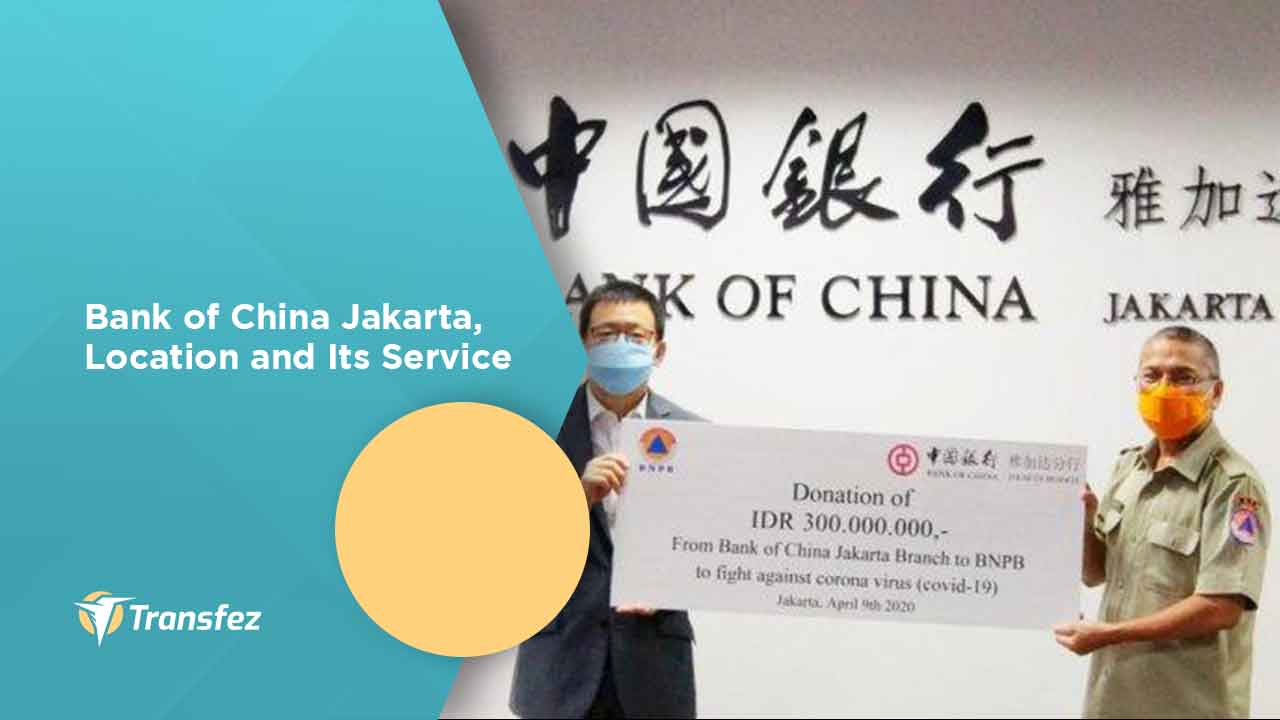 Of course, the Bank of China is not just any in choosing Jakarta as the right branch location. Considering that Jakarta is the capital of Indonesia and a gathering place for expatriates who work in Indonesia.
See Also: A faster and lower cost way from Singapore to Indonesia to pay BPJS
So Jakarta is the most suitable place to develop the business of this bank. So that later more local Indonesian customers, entrepreneurs, to expatriates who want to create a bank account on this one bank.
Send Money Easily to Different Countries
How to Send Money to Singapore
How to Send Money to India
How to Send Money to Hongkong
How to Send Money to China
How to Send Money to Malaysia
Bank of China Jakarta itself is actually not a bank that has just been established in Jakarta. The bank has been in the city since 1938 for the first time. The bank was officially licensed to operate in Jakarta in 1955, but then it ceased operations in 1964.
Furthermore, apparently bilateral relations between Indonesia and China have finally resumed. Even in 2003, this relationship increased, so in the end, the Indonesian government decided to reactivate the operations of the Bank of China in Jakarta.
From here, the services provided by the Bank from China are running again and have one main branch in Jakarta until 2016. But after that, along with the development of customers that are quite high and soaring, the Bank of China decided to set up the next seven auxiliary branch offices in various cities in Indonesia.
Locations of Bank of China Jakarta
Bank of China Jakarta itself to this day has several locations. The main thing is that this bank has one headquarters located in Taman Centre Suite, Jalan Jenderal Sudirman, Jakarta. As a main road in the capital, it certainly will not be difficult to find the existence of banks originating from China. In addition to its strategic position, this main office can also be found easily in the Sudirman Street area.
As previously informed that in addition to the main branch office there are also several auxiliary branch offices in Jakarta. These auxiliary branch offices include Bank of China Mangga Dua, Bank of China CBD Pluit, Bank of China The East, Bank of China Kelapa Gading, and Bank of China Melawai.
How to Open a Bank Account in Australia
How to Open a Bank Account in Hong Kong
How to Open a Bank Account in China
How to Open a Bank Account in India
How to Open a Bank Account in Japan
How to Open a Bank Account in Malaysia
With the existence of several locations from Bank of China Jakarta, it will certainly make it easier for customers of the bank to carry out all financial activities centered on this bank. If you experience obstacles to being present at the head office, then choosing to visit the auxiliary branch office can also be the right choice. Moreover, traffic conditions in Jakarta are uncertain. So traveling far enough can take a lot of time and energy.
See Video How To Easily Send Money International
Bank of China Jakarta Services
Of course, as one of the international banks, Bank of China Jakarta provides professional services to its customers. Currently, there are several bank services that can be enjoyed by customers or customers.
Of course, it will be interesting to know what form of service. So that customers can decide which type of service is the best that suits the needs and desires of each customer. Here are some of the services.
• Saving Account Services
The first service is a service for the opening of savings accounts for customers. At Bank of China Jakarta, all Indonesian citizens and expatriates can decide to open a savings account at the bank. Not only has excellent service, but the interest rate provided is also quite attractive.
• Credit Facility Services
Bank of China Jakarta also provides credit service facilities for customers in need. However, this specific service requires requirements and criteria that are quite long. Therefore, make sure to know all the requirements of credit application in full.
• Foreign Exchange Services
Apparently, at Bank of China Jakarta, there is also a service for foreign exchange for expatriates who want to exchange funds owned. Especially for expatriates from China who intend to exchange some money from Indonesia to the currency of origin in China. Therefore, this service for foreign exchange is provided for customers who need this type of service.
Transfez App can help you transfer money abroad more quickly and efficiently. Transfez Business can also help your business in making transactions abroad. For those of you who want to send money to relatives who are abroad because they are studying, working, or traveling, Transfez will be ready to help. This app is available on Android as well as iOS.
That's a little explanation about Bank of China Jakarta, including location, services, and various important information related to the bank. So for anyone in Indonesia, especially those in Jakarta, interested in investing in this bank, it will not be difficult to find it. With the right information, of course, customers will be able to choose the appropriate services and bank accounts as well.