Changi Jewel Airport has opened in Singapore. There are a few things you need to know about this terminal at Singapore Changi Airport. On Wednesday 17 April, Singapore's Jewel Changi Airport opened. The airport will soon become Singapore's newest landmark and will take center stage. Some important things you need to know about Changi Jewel.
The world's best architects built this luxurious and beautiful airport terminal. Changi Jewel Airport is a glass dome that has become a symbol of Singapore as a new tourist destination. Moshe Safdie, a world-renowned architect, designed Jewel with a unique multi-dimensional look.
The area has many selections of tourist attractions, including shops, and restaurants. Furthermore, as well as other airport facilities for visitors and tourists to enjoy.
More Than 280 Shops and Restaurants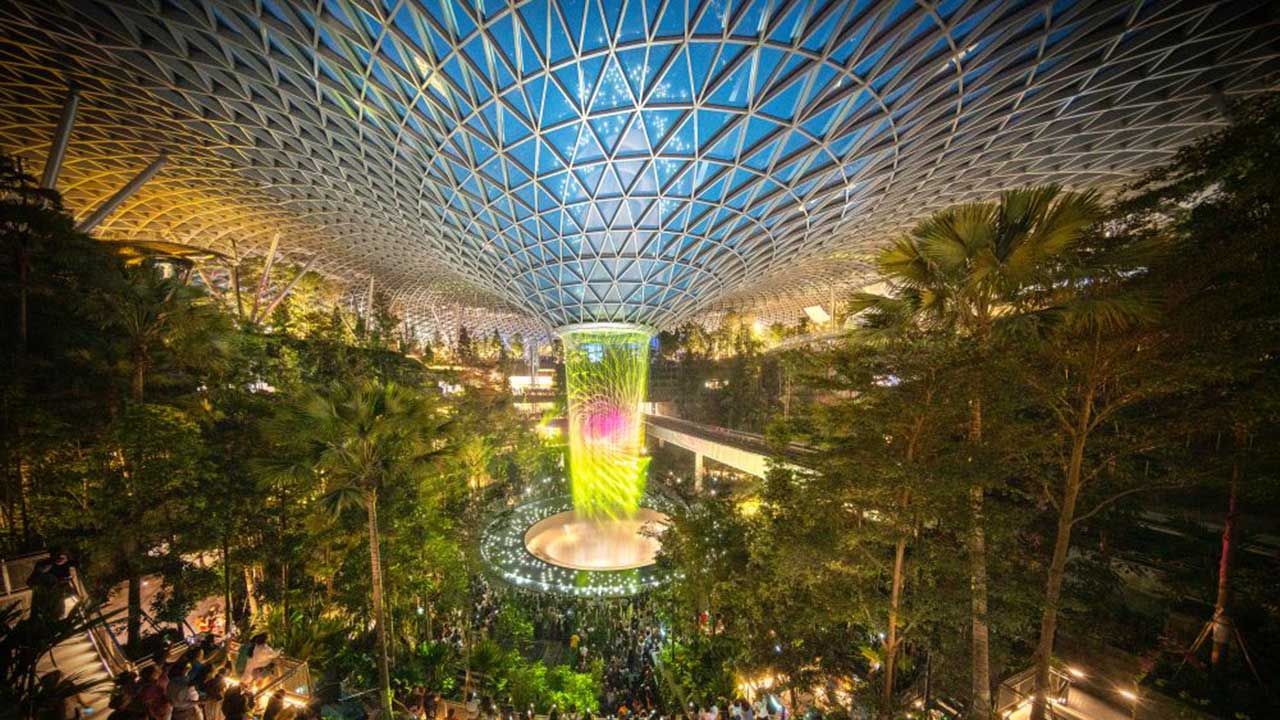 Changi Jewel has more than 280 shops and restaurants with great ideas and famous brands from all over the world. Visitors can see brands that opened their first store in Singapore, such as Emack and Bolio's, JW360, Lavender, OYSHO, and Pokemon Center Singapore.
They can also check out local Singaporean brands, such as In Good Company, Supermama, and Tiger Street Lab. All participating Singaporean designers, retailers, and artisans have the opportunity to showcase Singapore's real work to the world.
There are also restaurants such as Shake Shack which was the first fast-food restaurant in America and originated in New York, Burgers and Lobsters originating in London, Laderach which originated in Switzerland, and Pink Fish is a fast-food restaurant that serves seafood. This restaurant is the first in the world, which will attract tourists and foodies from Indonesia and all over the world.
In addition, Halal-certified restaurants such as Commons, Earle Swensens, El Fuego by Collin's, Saap Saap Thai, So Pho, and many others will also serve a variety of Western and Asian cuisines for Muslim teachers and tourists to enjoy.
Top Singapore Culture Shock for Expatriates
Top Reasons Why Singapore Expats Love The Country
Overview of Singapore Property
All You Need to Know About Singapore Education
Expat Health Insurance in Singapore
6 Main Tax Tips for Expat in Singapore
The Best 10 Singapore Technology Companies
There Is the Highest Indoor Waterfall in The World
The name of the waterfall is "HSBC Rain Vortex", and it is very high. This waterfall is in the middle of Changi Jewel, surrounded by parks and fake forests. It looks really good. Therefore, it is one of the most interesting parts of the airport to see.
There Are More Than 2,000 Trees in Changi Jewel
Changi Jewel has a luxurious design and also has a space like an artificial forest. There are more than 2,000 trees, of 120 different species, from places such as Australia, China, Malaysia, Spain, Thailand, and the United States. This way of planting and arranging plants creates a beautiful and soothing garden which is like being in a forest.
Changi Jewel is right next to the arrivals area of Terminal 1 and is connected to Terminals 2 and 3 by a bridge. Jewel has five floors above ground and five floors underground, with a total area of 135,700 square meters.
Send Money Easily to Different Countries
How to Send Money to Singapore
How to Send Money to China
How to Send Money to Malaysia
How to Send Money to Japan
Various Tourist Attractions
In addition to the HSBC Rain Vortex which is an indoor waterfall, Jewel also has some tourist attractions that visitors can enjoy. Some of the sample is Shiseido Forest Valley, a four-story indoor garden. There is also a playground namely Manulife Walking Nets, Bouncing Nets, Hedge Maze, Mirror Maze, and Discovery Slides. Those play area are designed to create a fun indoor garden concept.
When most people think of airports as just a place to go from one place to another, the stops at Singapore Changi Jewel are a must-see for travelers. Its new extension, called Changi Airport Jewel, transforms Singapore's world-class airport hub into a place where people can find inspiration for their lifestyle.
See Video How To Easily Send Money International with Transfez
Buildings on Changi Jewel
Most buildings in the area are connected to the arrival halls of Terminals 1 and Terminals 2 and 3 via pedestrian paths. The building has a large mix of restaurants, upscale shops, and a beautiful area. Therefore, it can be said that the area is comfortable to seek and attend. Mainly if you plan to get a flight from the airport.
Jewel Changi Airport is not only a feast for the eyes, but also has more than 80 dining stalls serving a variety of local and international dishes to challenge the taste buds of foodies visiting here.
Global brands include Shake Shack, an American burger joint, the AandW fast-food chain that everyone loves, and Pink Fish, a casual seafood restaurant from Norway.
Suitable Pricing Options
Changi Jewel Airport offers a wide selection of high-end brands and artworks from local artists. It is a great place for people who want to visit the country in certain time and perform shopping. It allows shoppers to shop while surrounded by lush greenery. So that it give better pleasure for those shoppers.
In this area, you can find the largest Nike store in Southeast Asia, as well as local handicraft brands such as Supermama. The souvenirs and items sold by Supemama are all inspired by different parts of Singapore's culture. This makes it the perfect place for high-end buyers who want to show off their interior décor preferences.
Transfez App can help you transfer money abroad more quickly and efficiently. Transfez Business can also help your business in making transactions abroad. For those of you who want to send money to relatives who are abroad because they are studying, working, or traveling, Transfez will be ready to help. This app is available on Android as well as iOS.
That's the review of Changi Jewel. This airport is a shopping center located on the edge of Singapore's airport. This airport amazes anyone in its beauty. In addition, there are recreational activities with the theme of indoor nature.