How much do you need living in India? India is one of the interesting countries with lots of traditional cultures. That is why many foreigners come to visit India to see how unique is the country. Some even decide to stay in the country, either to have some business or to perform any job assignment.
No matter what the reasons are, the most important thing to consider is the cost of living in India. Therefore, it is crucial information to seek whenever someone decides to stay in the country for a certain time.
Transfer Money Easily to Different Countries
How to Transfer Money to India
How to Transfer Money to China
How to Transfer Money to Malaysia
How to Transfer Money to Japan
Living in India is similar to living in other Asian countries consider not too expensive. Compare with the countries in Europe or the USA, most of the Asian countries ask for a low level of cost. Therefore, some foreigners coming from Europe or USA will feel blessed to choose to stay here.
See Video How To Easily Send Money Overseas
Since the required cost will be more economical. But for those coming from similar Asian countries, India might cost similar to the cost in most other countries in Asia. For more information, related to this cost, the following paragraphs will give some overview.
Cost of Living in India Related to Accommodation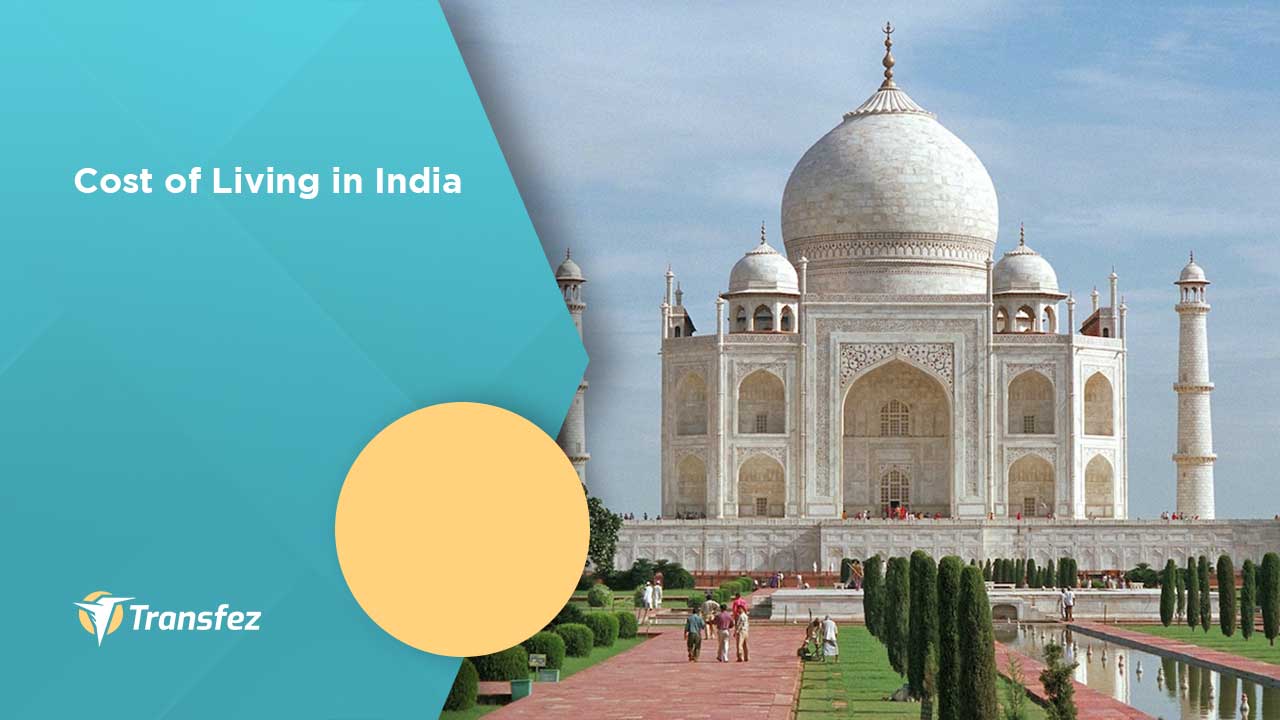 One of the most important considerations while staying in India is the place to live. Therefore, accommodation is the first thing to seek whenever you want to move to this country. If you come to this country alone, you might need a studio apartment. If you wish for a more economical cost, then you can choose to share an apartment with other people.
A different way if you move with your family. You will need a bigger unit or apartment or to rent a house. Therefore, you need to carefully select which place is suited to your financial capability. So that you will get a proper place to live with a proper price to pay.
For your overview, the cost for one unit of the studio apartment is 18,000 rupees. While the cost for a three-bedroom apartment is 25,000 rupees. But for additional information, the common salary in India is a minimum of 45,000 rupees. So that you need not worry about this price in actuality.
Cost of Living in India Related to Utility Expenses
Except for accommodation, you need to consider the monthly utility expenses. This is usually related to the cost of electricity, the cost of apartment service, etc. This cost will depend on your utilization every day. If you wish for a more economical cost, then you need to reduce your electricity needs.
Cost of Living in India Related to Transportation
When you stay in India, you will need to select the type of transportation for your daily activities. It is a common way to select public transport as your preferred method. Since this is the cheapest mode for transportation. But if you have more budget for your daily activities, then using a taxi can also have selected. Furthermore, some expatriates with families prefer to have a car for their daily transportation. This means that they need to consider the price of gasoline and the cost of buying the car.
Cost of Living in India Related to Meal
Another thing to consider is the cost of living in India related to the meal. It is a primary need that shall be provided every day. Therefore, you need to properly count all the necessary costs for your daily meals. Of course, deciding to get a meal in fast food restaurant or common restaurant will be more expensive than cooking the meal at home. It requires 300 rupees per meal. That is why expatriates living in this country with their family will prefer to cook at home. Since 1 kilogram of rice is only 66 rupees, 1 kilogram of chicken is only 266 rupees, and 1 kilogram of fruit is only 55 rupees.
Cost of Living in India Related to Entertainment
Your daily in India will not be excited without spending time on any entertainment. Therefore, you must spare some cost for watching cinema or come to an amusement park. The cost of living in India related to this activity might not be too much. Since people normally spend time for entertainment only on weekends. Furthermore, the cost for one cinema ticket is only 400 rupees, while the cost for monthly fitness is about 1,600 rupees.

Cost of Living in India Related to School
Those who stay in India with their children will need to consider the school fee. Normally, India charges 15,000 rupees per month for studying at an international elementary school. While the international playgroup will charge around 5,000 rupees per month per child. With this number of costs, you shall make sure that your income is aligned with these needs. So that your children will be able to get sufficient education while staying in the country.
Transfez App can help you transfer money abroad more quickly and efficiently. Transfez Business can also help your business in making transactions abroad. For those of you who want to send money to relatives who are abroad because they are studying, working, or traveling, Transfez will be ready to help. This app is available on Android as well as iOS.
 
Those all the information related to the cost of living in India that will be a benefit for everyone who wants to stay longer in this country. With the information above, it will be easier to define the overall income to receive so that you can properly live in this area. Furthermore, sufficient preparation before moving to India can help you get a better living experience in the country.