Cost of Living in Japan. Everyone will feel excited when they finally decide to stay in Japan. Japan is one of the interesting countries with a lot of attractions such as beautiful nature and incredible culture too. That is why many foreigners love the country to stay for a longer period. In which this lead to the need to know the cost of living in Japan before moving to this country.
See Video How To Easily Send Money Overseas
Japan is the country with the high cost of living in the world. Therefore, if you plan to move to this country, you shall prepare properly. Whether you come for business or take a new job, make sure that your monthly income is sufficient.
Transfer Money Easily to Different Countries
How to Transfer Money to Japan
How to Transfer Money to United States
How to Transfer Money to Singapore
How to Transfer Money to China
How to Transfer Money to Malaysia
As an overview, this country requires daily expenses up to 3000 USD per month. So that anyone without proper income will not be able to properly live in this country. For more information, related to the cost of living in Japan, the following paragraphs will describe further.
Cost of Living in Japan for Single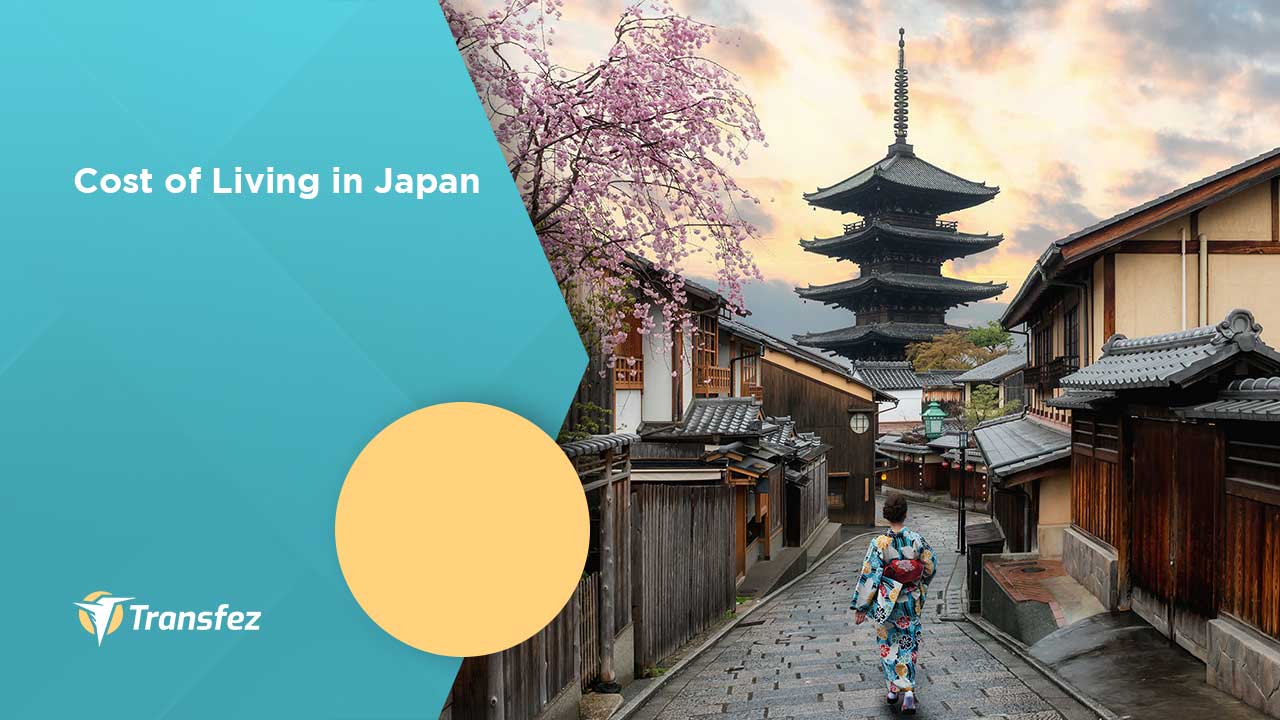 If you decide to move to Japan as a single, you might be looking for new challenges and experiences. Some of you might also come to Japan to study. Since there are many great universities in this country. However, you shall consider that a single person might require expenses up to 2,200 USD per month. Therefore, if you decide to study in this country, you shall prepare this cost every month.
When you come to Japan for a new job, you need to check your monthly salary. A normal job in Japan for foreigners will give an income of around 3,000 USD per month. Therefore, make sure that you get this minimum amount of salary for a proper living. If you can receive more, it means you can have more savings to get.
Cost of Living in Japan for A Family
Anyone who decides to move to Japan with their family might require more cost. A family of four can spend up to 4,500 USD per month in Japan. Therefore, if the average salary in Japan is 3,000 USD per month, then you shall manage to get more income. Otherwise, both parents can decide to get a job so that it can result in enough income for the family.
However, expatriates normally will receive a higher income than the local person. They even can gain double income. Therefore, it will depend on your negotiation while taking a new job around Japan. If you run a business with high profit in this country, surely you will be able to cover your monthly expenses here.
The breakdown for Cost of Living in Japan
After reading the previous information, most of you will feel curious about the cost breakdown of living in Japan. Since it can be considered quite high. While the average salary in this country is about 400,000 Yen or equal to 3,500 USD per month. While one person can spend up to 2,200 USD per month, and a family might need double the cost. Therefore, if you move with your family, you might need to consider both parents working to earn money. So that it can fit with the daily expenses in the country.
Most of the expenses in Japan will be divided into several main points. First is accommodation, second is the meal, third is transportation, and else including for school, utilities, entertainment, etc. That is why if you want to manage your cost of living in Japan, you need to carefully divide your expense wisely. If your income is not too big, you can choose to share an apartment. So that you can save more money from this choice. You can also choose to live outside the city center for a more economic apartment rental price.

Another main consideration related to the cost of living in Japan is the daily meal. A single person can decide to have a meal at fast food restaurant every day. Since it costs around 6 USD per month. But, it might be too expensive for a family to have a meal outside every day. Therefore, to deal with these issues, cooking at home is a good solution to choose. You can save some amount of money by buying groceries in fresh markets and then cooking by yourself every day.
The next consideration that needs wise selection is the cost of utility. You need to make sure that you are using sufficient electricity so that you wouldn't spend too much cost on these needs. Most of the people in Japan spend up to 200 USD only on this utility. Therefore, it can consider some amount of cost to spend every month.
Transfez App can help you transfer money abroad more quickly and efficiently. Transfez Business can also help your business in making transactions abroad. For those of you who want to send money to relatives who are abroad because they are studying, working, or traveling, Transfez will be ready to help. This app is available on Android as well as iOS.
 
Those all some information about the cost of living in Japan. With this information, any foreigners who decide to stay in the country can estimate their expenses. Whether they stay in Japan alone or with the family, it is necessary to prepare accordingly so that you wouldn't find any further problems staying in this area. With a sufficient estimate and preparation, surely you will have a nice living experience in Japan. Enjoying nature, the culture, and the city, Japan is one of the best destinations in the world.