Cost of living in Manchester. Manchester is one of the favorite places to stay for many foreigners. Mainly for those who plan to finalize their degree and of course for those who are football lovers. Living in this country offers excitement experience ever.
Therefore, every year, many people from the various country in the world come to stay in Manchester. Whether to start a new carrier or to get further education. There is one important thing that needs to consider, the cost of living in Manchester.
Of course, it is quite amazing to get an experience staying in this country. However, do not forget that proper preparation will be needed whenever you plan to move to Manchester for some time.
You need to estimate the cost of accommodation, your daily meal cost, the cost for transportation, and mostly the school and tuition fee for those who plan to continue their education in Manchester. For a briefer explanation related to this matter, the following paragraphs will give some overview about it.
Cost of Living in Manchester Related to Accommodation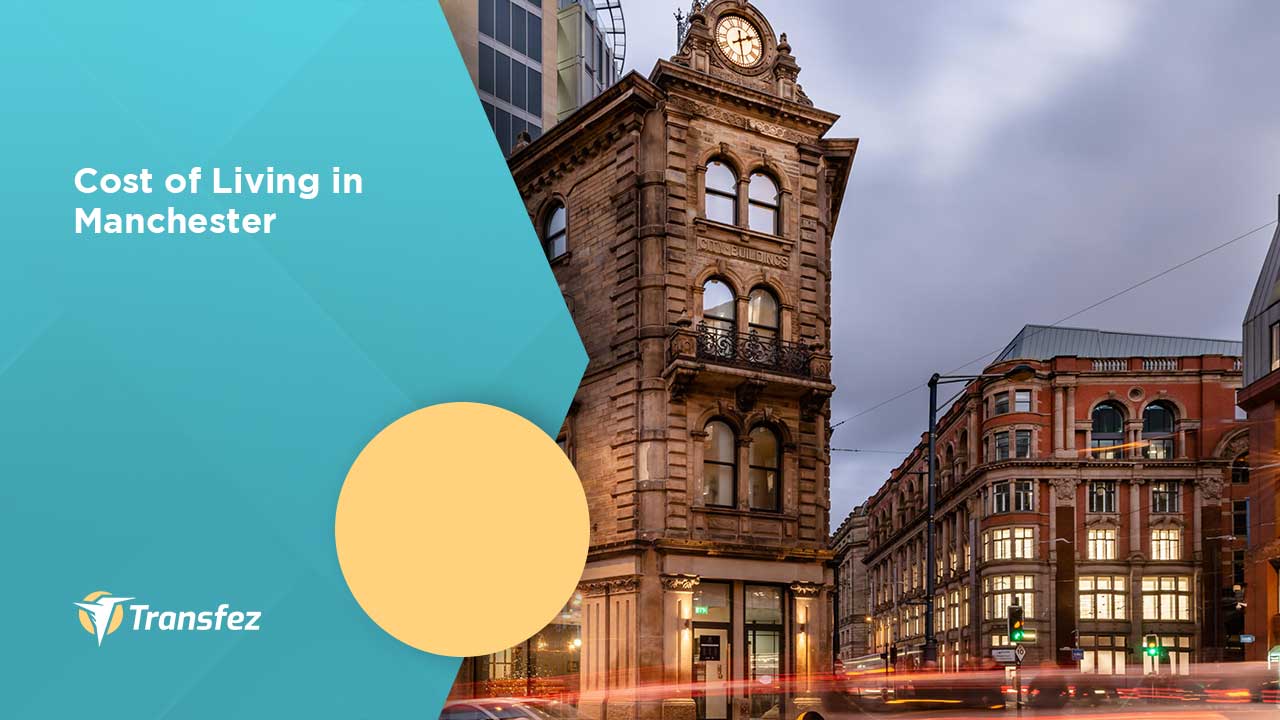 The first consideration to make is the cost of living related to the needs of accommodation. It is one of the most important things that you should find a proper place to live while staying in Manchester. For information, this country offers various types of places to stay. Starting from a unit of a studio apartment, apartment with three-bedroom, house rent, and even dormitory for the college students.
One of the things to carefully compare is the cost. A studio apartment or one-bedroom apartment will cost 850 Euro. While if you plan to have a three-bedroom apartment, you will need to pay as much as 1,500 Euro per month. It means if you're single, you can prefer sharing an apartment with other people for a more economic cost. Otherwise, for a family, you can select to stay outside the city center which can lead you to save 500 Euro per month for the apartment fee.
Transfer Money Easily to Different Countries
How to Transfer Money to United Kingdom
How to Transfer Money to Singapore
How to Transfer Money to China
How to Transfer Money to Malaysia
How to Transfer Money to Japan
Cost of Living in Manchester Related to Meal
The next thing that is important to note is the cost of the meal. For your comparison, the cost of one meal in a fast-food restaurant is around 6 Euro. While if you want to have lunch or dinner in a proper restaurant, you might need to spend a minimum of 15 euros per meal. Therefore, you need to calculate whether you have a sufficient budget to eat outside every day. Otherwise, you can select to buy groceries and cook your meal at home.
See Video How To Easily Send Money Overseas
The price of standard groceries in Manchester is not too expensive. A kilogram of rice cost 1.6 Euro, while a kilogram of potatoes cost 1.3 Euro. If you want to add some protein, you can get 1 kilogram of chicken fillet with only 5.5 Euro and a kilogram of eggs for only 2.2 Euro. With this cost, you can spend less than 10 Euro per day for a three times meal for a single person. If you stay in Manchester with your family, still cooking is the best option to reduce your daily expenses.
Cost of Living in Manchester Related to School Fee
Most foreigners come to Manchester is to have better education. Many students come from other countries to get better degrees in the universities around Manchester. Therefore, the tuition fee of the university is important to note. Some of you that are lucky can apply for scholarships. However, if you wish to pay the fee with your own money, then you shall prepare for a sufficient budget. That is why before staying in this country for education, you will request to provide some amount of money in your savings to get a visa to enter Manchester.

Cost of Living in Manchester Related to Leisure
Not only to get a new job or to get a better education, but some people also come to Manchester for leisure. Therefore, the cost of entertainment is also an important consideration. For those who are looking for a new experience traveling the world and choose Manchester, you need to count all the costs for your pleasure time.
Such as watching a cinema in this country will require at least 8.5 Euro per ticket per person. While if you want to spend your time in a gym, the cost is about 29 Euro per month per person. This might look not too expensive. However, you need to make sure that you have a sufficient budget to cover this cost. Otherwise, make sure that you have sufficient income in Manchester to have fun.
Transfez App can help you transfer money abroad more quickly and efficiently. Transfez Business can also help your business in making transactions abroad. For those of you who want to send money to relatives who are abroad because they are studying, working, or traveling, Transfez will be ready to help. This app is available on Android as well as iOS.
 
Those all some information related to the cost of living in Manchester. With this information, you can roughly estimate how much money to spend every month to cover all your needs in this place. So that you can prepare accordingly and reach proper life while staying in Manchester. If you plan to continue your study, make sure to have enough budget to live here. If you're taking a new job and carrier, make sure you get sufficient income. So that, in the end, it is worth enough for you to decide to move to this lovely place.