Cost of living in Norway (Norwegia). Norway is a wealthy country where every year many foreigners come to the country either for study or for taking a new job. This country considers as a comfortable country to stay.
Therefore, people from other countries are keen to move to this area. However, the cost of living in Norway might be quite high. This is one of the reasons why it is necessary to estimate how much cost to spend every month if decide to stay in this country.
Transfer Money Easily to Different Countries
How to Transfer Money to Turkey
How to Transfer Money to United Kingdom
How to Transfer Money to Germany
How to Transfer Money to Netherland
How to Transfer Money to France
How to Transfer Money to Spain
The cost of living in Norway normally will be divided into several items. The most important point is the cost of accommodation. Since it is to define where you want to stay in Norway. The next thing is transportation for your daily activities, continue with the meal expenses.
Furthermore, the cost for entertainment and study is also necessary to consider. To get a preliminary overview related to this cost, the following paragraphs will give a clear explanation.
Cost of Living in Norway for Accommodation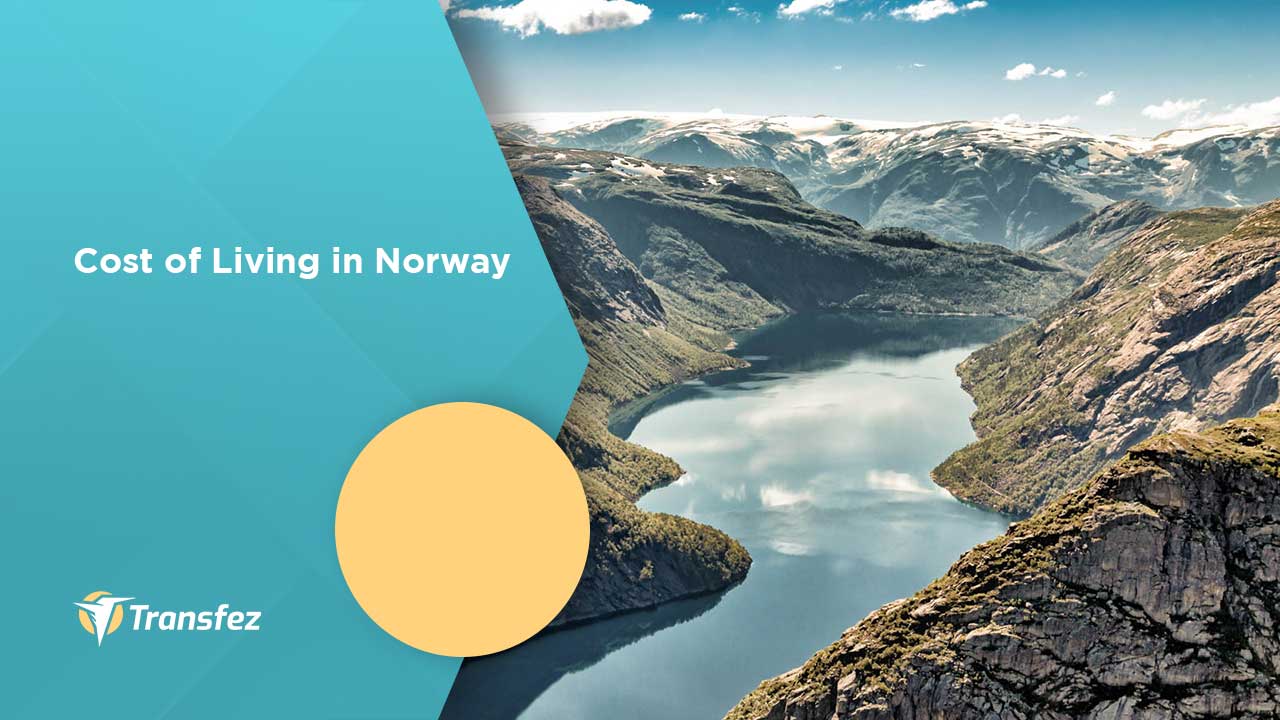 The first important thing to prepare whenever someone moves to another country is the cost of accommodation. Without proper accommodation, it will be difficult to have a nice stay while in Norway. Therefore, it is necessary to define whether you need a unit or studio apartment or decide to rent a house. This might depend on your status, whether you move to Norway as a single or as a family.
See Video How To Easily Send Money Overseas
If you move to the country as a single student, you can choose to rent one studio apartment. Otherwise, for a more economical solution, you can share an apartment with other students. For information, the cost of apartment rent in Oslo can reach up to 1,230 USD per month. While if you decide to study in Stavanger, the apartment rent cost is 885 USD per month.
A different way with those who move to Norway with a family. It may require more cost since a three-bedroom apartment in Norway can cost up to 2,000 USD. So that it is necessary to receive sufficient income to cover the expense of this apartment rent. In which this cost can consider as the biggest cost of your monthly expense while you stay in Norway.
Cost of Living in Norway for Transportation
The next consideration shall be made to estimate the cost of living in Norway related to the transportation cost. This is important since you shall use transportation for your daily activities. Therefore, you need to spare some budget-related with this cost. As information, monthly passes for public transportation cost 73USD only. But, if you use a taxi, it starts at 16 USD at the rate of 1USD per kilometer. Therefore, choosing public transportation will be more economic.
Cost of Living in Norway for Meal
Another biggest expense for your daily living while in Norway is an expense for the meal. It will be a different cost between having a meal in a restaurant compare with cooking yourself. Since the cost for a meal in a restaurant will be more expensive than buying groceries at the store. Therefore, cooking is a good solution for those with a limited meal budget in Norway.
As an overview, the cost for one meal in fast food restaurant can be around 13 USD. But, if you manage to buy groceries, a kilogram of rice only costs 2.7 USD and a kilogram of chicken only costs 16.6 USD. It means that you can save half the money than buying food in the restaurant.
Cost of Living in Norway for Study
Most foreigners come to Norway to get a better place to study. For example, many graduates decide to take their degree in Stavanger. Therefore, every year Norway receives many students from overseas. However, anyone who decides to study in this country without a scholarship might need to consider the tuition fee. Since it will cost quite high to get your degree in the universities in Norway.
While for those a family plan to move to Norway, the cost for the children's school is also important to count. Normally, most preschools in Norway cost 380 USD per month. While common elementary schools cost 1,000 USD per month.

Cost of Living in Norway for Entertainment
Except for the major expenses above, you may want to enjoy some time while in Norway. Therefore, it will be good to check the cost of living in Norway for entertainment. Most people prefer to go to the cinema. It cost 16 USD per seat for one person. While some other people might choose to go to an amusement park or to join a fitness club. This can cost up to 50 USD per month.
Transfez App can help you transfer money abroad more quickly and efficiently. Transfez Business can also help your business in making transactions abroad. For those of you who want to send money to relatives who are abroad because they are studying, working, or traveling, Transfez will be ready to help. This app is available on Android as well as iOS.
 
Those are all the entire estimations for the cost of living in Norway. So that anyone who decides to move to this country will get a suitable overview of how much money to spare in a month. This is also related to your received income if you choose to take a new job in Norway. With sufficient income, you can have a proper living in Norway and enjoy days without further worry about expenses.