Cost of living in Vietnam. One of the interesting places to stay in South East Asia is Vietnam. This country offers various nice jobs for expatriates. Furthermore, the cost of living in Vietnam can say quite friendly for many foreigners. Since the daily expenses in this country are not expensive compared to many countries in the world. Therefore, Vietnam is one of the destination countries that is loved by many foreigners. Not to mention there is a various promising job for expatriates such as in oil and gas industries or mining.
See Video How To Easily Send Money Overseas
There are several things to consider whenever you decide to move to Vietnam. Starting from the culture, the food, and of course the living cost in the country. You need to know that several basic needs shall be provided such as accommodation, meals, and transportation.
Transfer Money Easily to Different Countries
How to Transfer Money to Vietnam
How to Transfer Money to Singapore
How to Transfer Money to China
How to Transfer Money to Malaysia
How to Transfer Money to Japan
Therefore, any information related to this matter is important before you move to Vietnam. Furthermore, it is also necessary to define how much money shall be provided to have a proper life in Vietnam. To help you estimate the value, the following paragraphs will give an overview.
Average Cost of Living in Vietnam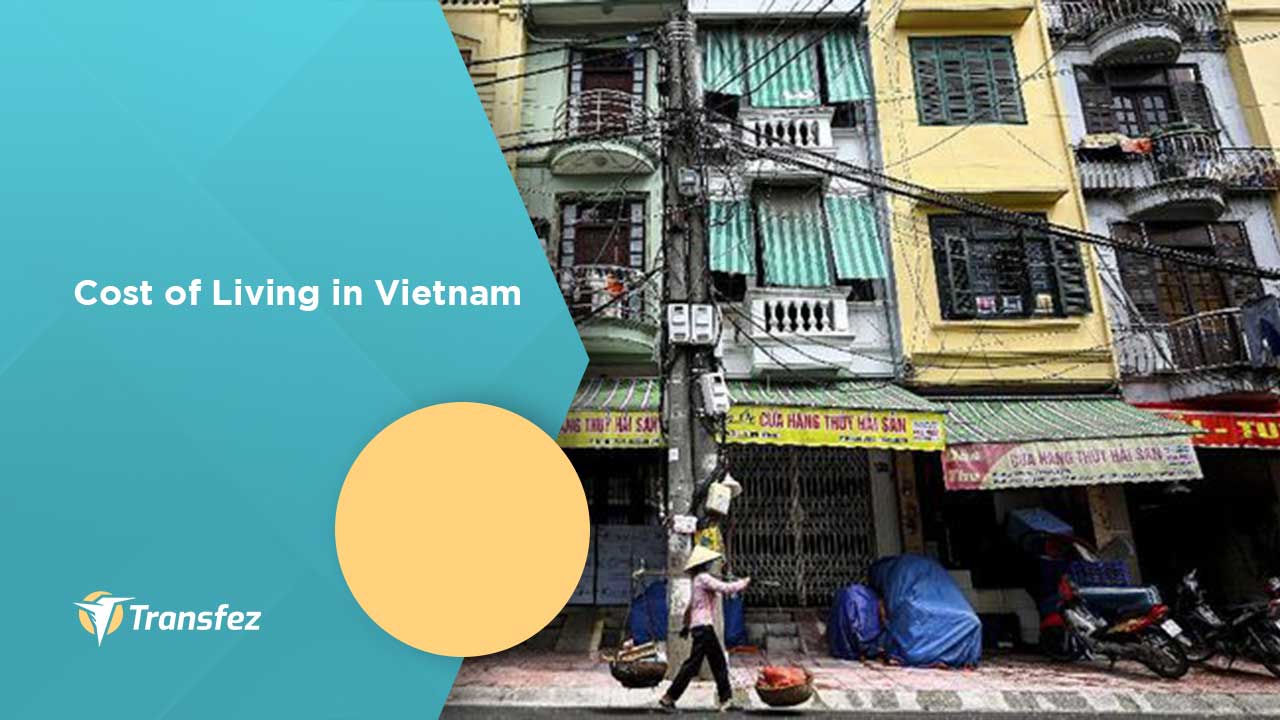 Those who never come to Vietnam will be surprised since this country has a low rate of living. A single person will be able to say in this country with only less than 500 USD excluding the apartment fee. Therefore, compared to other countries in the world, it is fantastically cheap.
While for a couple, it takes less than 1,000 USD per month to stay in the country exclude house rent. If you plan to take your whole family, let's say a family with four members, then your monthly expense will be about 1,500 USD only excluding the apartment rent charge.
With this average cost of living in Vietnam, no wonder that every year many foreigners are interested to stay in this country. There are many open jobs available for expatriates in Vietnam, mainly for those with good skills, who will be able to get a nice income in Vietnam. Therefore, it is common if many European or US citizens try to move to the country and wish for better luck in this country.
Cost of Accommodation in Vietnam
Vietnam notes a low charge for apartment fees. The cost for a unit of studio apartment per month is only 350 USD. If you prefer to stay outside the city center, it even costs only 250 USD per month. While if you stay with your family, a rental fee for a three-bedroom apartment in the city center costs only 800 USD per month. For a more economical price, you can choose to stay outside the city center, since it cost only 500 USD per month.
This means that the living cost in Vietnam is very low. The cost of accommodation in this country is very cheap. Anyone with a sufficient salary in the country will be able to get a proper living. Mainly those with good skills and jobs, living in Vietnam can be an exciting experience. Not to mention the amount of money you can save from here.
Meal Expenses in Vietnam
Another interesting thing related to the cost of living in Vietnam is the meal expenses. Not like many wealthy countries in the world, the cost for a fast food meal in Vietnam is only 5.5 USD per person. It means that you only need to spend less than 20 USD per day for a proper meal. While mid-range restaurants charge only 17 USD for three courses. And the good news is commonly street food restaurants charge only 2 USD per meal per person.
In case you love to cook then you can also save more budget. The price of one-kilogram rice in this country is only 1 USD. While the price of a kilogram of the chicken fillet is 3.5 USD, and the price of 1 kilogram of apples is only 3 USD. It means that with less than 10 USD, you can feed all the members of your family in a day.

Average Income in Vietnam
In case that you are interested to come to Vietnam, you need to know the local rate of income in this country. Unfortunately, many locals get an average income of less than 500 USD per month. But the good news, expatriates with a high skill can get up to 5,000 USD in this country.
Therefore, if you come to Vietnam for an excellent job, you will properly live in the country without the worry of any financial problems. Even if you are Asian from other countries around Vietnam, a skilled job will offer a salary of more than 3,000 USD per month.
Those all the information related to the cost of living in Vietnam. With the above information, it will able to give you an overview of how much income you should get if you move to this country.
Transfez App can help you transfer money abroad more quickly and efficiently. Transfez Business can also help your business in making transactions abroad. For those of you who want to send money to relatives who are abroad because they are studying, working, or traveling, Transfez will be ready to help. This app is available on Android as well as iOS.
 
Furthermore, you can also estimate whether you move to the country alone or take your family too. Therefore, you can prepare accordingly. With good estimates and proper preparation, moving to Vietnam can be an exciting experience you get in life.