If you decide to stay for a long time in Indonesia, such as for work or opening a business, you need to open a local bank account. Local banks and money remittance services in Indonesia will help you to transfer money for business and personal reasons. As a foreigner, the process of opening a new bank account requires additional steps.
How to Open a Bank Account in Indonesia
Opening a local bank account can be difficult for foreigners without residency documents, like the KITAS, KIMS, or KITAP. However, once you acquire the necessary documents, the process can be easier. Having local bank accounts also make daily transactions more convenient.
Reasons to Open Bank Account in Indonesia
Having a local bank account in Indonesia provides several benefits. Listed below are some of the most common ones:
Conducting Local Business Transactions
If you work or partner with local people, such as employees, suppliers, or business partners, having local bank accounts will make transactions easier. Many Indonesians use local banks for daily transactions, such as monthly payments, personal uses, business transactions, and finance app applications.
Indonesia has several e-wallet services used by individuals and businesses, including restaurants, online stores, supermarkets, travel services, and many more. Having e-wallet accounts can make your life easier, but you should have local bank accounts to top up the credits.
Paying for Public Services
Living and working or doing business in Indonesia requires you to deal with public services. Notaries, lawyers, courier services, and various institutions require transactions or payments based on local bank accounts.
Need to buy a house or vehicle in Indonesia? Make sure you have the means to pay for deposits. Having a local bank account allows you to do it conveniently.
Finally, having local bank accounts makes it easy to conduct daily life in Indonesia. You can shop, eat, order, and pay for services or products just like the locals do. Indonesian mobile banking system offers diverse features and convenient services, and all the transactions are conducted in local currency (Rupiah).
Documents to Open Bank Account in Indonesia
The Indonesian government has made the process of bank account application smoother for foreigners, especially expats or business owners in big cities like Jakarta and Bandung. The process still prioritizes foreigners who have temporary or permanent residency status. Therefore, there are specific documents to prepare if you want to have a local bank account, which are:
KITAS is short for Kartu Izin Tinggal Terbatas (Limited Residency Permit Card). It allows foreigners to stay in Indonesia legally but in a limited time. There are several types of KITAS provided by the Indonesian government, such as for work, spouse, family members, or retirement. It is not available for tourists or other short-time travelers.
You must have a valid passport to apply for a bank account. There are specific validity periods for a foreigner's passport, depending on the KITAS period. For example, a 6-month and 12-month KITAS needs a 12-month and 18-month passport validity, respectively.
Documents and Reference Letters
You must have signed reference letters from your employer to open a bank account, along with personal documents like valid ID cards and employee identifications. If you are a business owner, brings the copies of business identity documents.
Spouse's ID Card (Government-Issued)
Sometimes, there are situations where the bank may ask for your spouse's valid ID card. It usually happens when you obtain KITAS through marriage with an Indonesian national.
Many banks still require actual photographs as the requirements for opening bank accounts for foreigners. The standard photograph used to be printed in 4×6 size, colored, and with a red background. However, most banks now directly take pictures of new customers at the customer service and use it as their documents.
Depending on the bank requirements and details of your activities in Indonesia, you may need to prepare domicile letters, an existing credit or debit card, permanent residency contact, and valid bank documents from your origin country.
Steps to Open Bank Account in Indonesia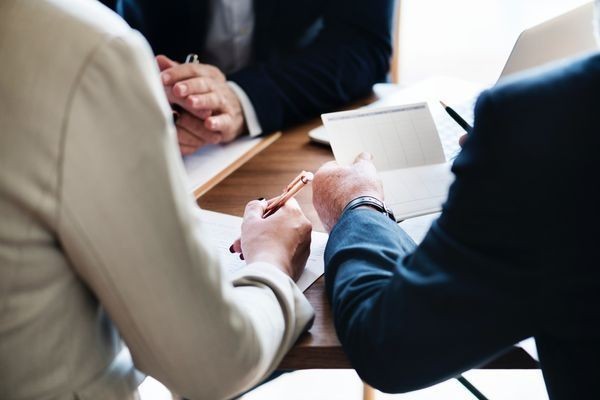 Foreigners who work under formal entities in Indonesia, such as specific companies, institutions, or organizations, usually can skip the hassles of going to the bank. However, if you have a business or not working in a company, you should know how to open a bank account.
The general steps to open a bank account in Indonesia are:
Bring all the required documents to the bank
Choose the type of account you need
Fill in the form to open the first bank account
Make the first required deposit
Download the bank's online application for an easier transaction
Major banks in Indonesia allow you to apply for bank accounts online. You can download the app, scan and upload the documents, and take a photo with your phone. However, you still need to confirm the account opening by coming to the actual bank. Without confirmation, the account opening will be cancelled after a certain period.
When choosing the account type, make sure you know what to expect. Banks in Indonesia generally offer three types of accounts, which are:
A savings account is necessary for activities such as saving, transferring, and shopping. This account type is important if you want to store assets and conduct daily transactions.
Checking account is required for any transactions that use a check or demand deposit (giro).
Deposit account gives higher yearly interests than a regular savings account. However, unlike the savings account, you cannot withdraw the money until a certain time limit has been reached. For example, if you choose a five-year deposit account, you cannot withdraw the cash for five years.
The technical details of opening a bank account can be slightly different between banks. For example, one of the bank in Indonesia now allows you to talk directly to the staff through video call when you open an account through the mobile application.
Options of Bank in Indonesia
Indonesia's Financial Services Authority (Otoritas Jasa Keuangan) listed 119 active banks in Indonesia per March 2019. However, foreigners should focus on major banks with the most widespread services in the country for easier businesses. Popular options for the banks include:
BCA is the largest private bank in Indonesia, offers services such as regular savings account, checking accounts, Dollar accounts, and student's accounts. It also provides financing services such as housing and car loans, business-related financing, and investments. The services include payrolls, virtual accounts, and remittance.
The state-owned Bank Mandiri is the largest and most popular bank in Indonesia. It offers various account options, services, and financing options. It also offers several insurance programs, retail brokerage service, and foreign currency saving.
Bank Negara Indonesia (BNI)
Another state-owned bank, BNI not only has branches in Indonesia, but also several international cities such as Singapore, Seoul, Tokyo, Hong Kong, New York, and London. It offers savings and deposit accounts, along with several types of insurance programs.
Bank Rakyat Indonesia (BRI)
BRI is the oldest bank in Indonesia, dating back to the country's colonial-era at the end of the 19th century. While it offers typical bank services and products, BRI is mostly popular among small business owners and people who need microfinancing programs.
Several foreign banks also open their offices in Indonesia. They include HSBC, Bank of China Limited, Citibank, and Standard Chartered Bank. Most of these banks have their headquarters in Jakarta. However, they don't have widespread branch offices.
Balance Fund Limits for Opening Bank Accounts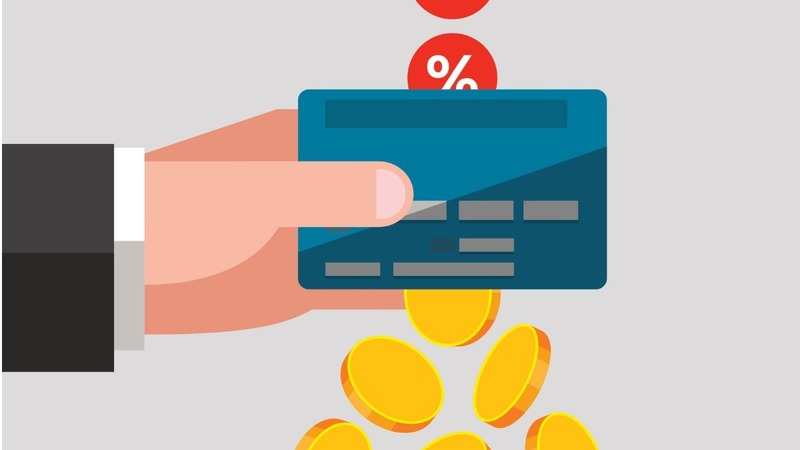 Depending on your activities in Indonesia, you need to follow regulations about specific balance fund limits in your bank accounts. They are divided into three based on your activity types, which are:
Tourist Account (Limited Balance)
If you stay in Indonesia as a tourist, you are allowed to open a temporary bank account by showing your identity papers. However, you must transfer at least USD2,000 as the first deposit. The balance limit must not exceed USD50,000.
Expat Account (Unlimited Balance)
It is the most common option for expats living in Indonesia. As a foreign worker, you can have an account with minimum USD50,000 balance and maximum USD1,000,000.
Special Expat Account (Large-Scale Transaction)
This account is for expats who often have to conduct large-scale transactions. You can have more than USD1 million in your account. However, there will be special taxes applied to the interests of the deposits. The taxes are progressive, which means you get lower tax rates if the balance is higher.
Despite allowing you to conduct transactions, not all banks are suitable for international transactions. Conventional banks charge substantial fees for remittance services. The process takes several days, which are inconvenient for your personal and professional financial activities. You also need to visit the bank to access its remittance service, which is inconvenient due to problems such as traffic jams, long wait, and queue. You need to have a different solution for international transfer activities.
Aside from conventional bank accounts, consider downloading a mobile-based international transfer solution. Transfez is an Indonesian remittance service that allows foreigners to send money to other countries in easier, faster, and cheaper ways.
Money Transfer Solution in International Transaction

Indonesia online remittance service like Transfez is a perfect solution for international money transfers. Unlike conventional banks, Transfez provides faster and convenient transaction service without any hidden cost. This online remittance service is already under the supervision of Indonesian financial authorities, such as Bank Indonesia and PPATK, so that you can use it without worries.
Foreigners in Indonesia can get several conveniences by using Transfez, from the low cost to the wide service coverage. Below are the listed benefits of using Transfez:
Transfez offers transfer services from Indonesia to more than 37 countries. The main services currently involve regions such as Singapore, the UK, Malaysia, India, China, Japan, the Philippines, and several European countries. You can also send money in various currencies besides the US Dollar.
Transfez can transfer money in as fast as 24 hours, making it more convenient for emergencies. Depending on the destination countries, the transfer process can also be done in real-time. You can use the status tracker to monitor your money transfer process.
Transfez can help you to save on international remittance cost. You can save as much as 91% on the transaction fees. Transfez also offers highly competitive exchange rates.
Transparency in Transaction
Transfez offers transparency in all its transactions. You will only pay for the numbers displayed on the screen. The recipients will also get the full amounts, without any secret deductions.
Safe and Secure Transaction
Transfez is a licensed remittance trusted in Indonesia, with special encryption and layered security system that ensures the security of your transaction. Its system also protects your personal data, with the SSL server that is located in Indonesia.
Finally, Transfez offers a mobile-based service. You can send money anytime from your mobile device.
Benefits of Transfez as Remittance Service in Indonesia
Having a conventional bank account may be good if you live in Indonesia, but an online remittance service like Transfez offers benefits that the banks cannot give. Here are some comparisons between remittance services by banks and Transfez:
Practical Transfer Method
Transfez uses mobile technology to conduct transactions, while many banks demand you to visit their offices for conducting international transfers. The recipients can also receive the money directly on their phones instead of coming to the banks.
Transfez offers real-time or one-day transfer period, which makes it convenient for an emergency transaction. Conventional banks take a few days and even weeks to conduct international money transfer.
Competitive Exchange Rates
Transfez offers more competitive exchange rates compared to conventional banks, thanks to the lack of hidden fees. The recipients will get the full amount of money you transfer, and you only pay very little fees.
Simple Registration Method
Compared to conventional banks, Transfez offers easier registration steps to access its services. You can do everything on your phone, from registering to verifying identities before conducting a transaction.
Downloading Transfez is a practical option if you live in Indonesia. While the conventional bank account is useful for daily transactions and storing assets, Transfez allows faster and easier money transfer method to other countries.
Conclusion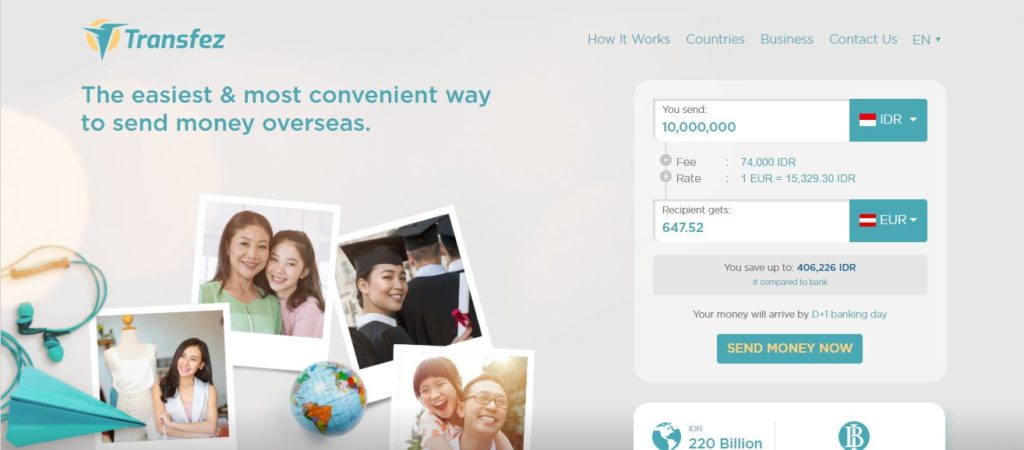 Foreigners living in Indonesia should apply for local services to have an easier life. Having local bank accounts will help you in daily transactions, payments, asset storing, and other typical financial activities. However, you should consider using one of the online money remittance services in Indonesia for easier international transfer. Transfez is a solution for faster, cheaper, and more transparent international transfer in Indonesia, with additional convenience factor that makes it a better remittance option than conventional banks.