Singapore is one of the countries that has many interesting places to visit. For example, such as Universal Studios, Gardens by The Bay, or being able to take a boat ride through the Singapore Zoo. You can also have a relaxing afternoon near the pool from Marina Bay Sands. Singapore has the privilege of building attractive buildings that suit the style of all visitors. There are also many interesting Singapore malls to consider.
Since while there are many buildings and places of interest there, the most important component of Singapore tourism is undoubtedly the country's shopping options. Some tourists who visit this country usually start shopping comfortably in many malls and expensive places. Malls in Singapore are most recommended to visit.
Furthermore, Singapore has the highest number of malls in Asia. So, it makes sense that shopping is entertainment that visitors to the country excel at. If you are among these tourists but are just visiting the country for the first time, there are several alternatives that you can choose. Worry-free, the following list has all the Singapore Malls that are worth your visit.
ION Park
ION Orchard is one of the Singapore Malls which is undoubtedly one of the most popular Malls in Singapore. The mall has a distinctive architecture because it consists of eight floors dedicated to retail, four of which are below ground level.

The mall is home to many cheap and high-end retail brands, each with a different floor dedicated to them. The ION Orchard building, ION Sky, also has an observatory on the 56th floor of the structure that provides an extraordinarily beautiful view of Orchard Road.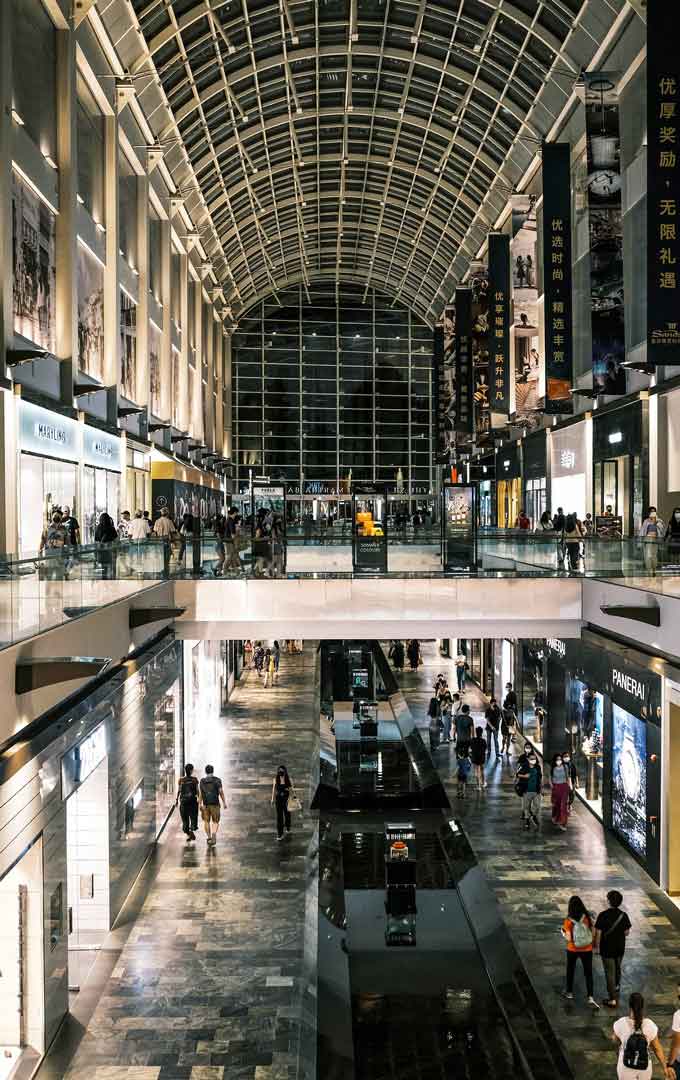 Paragon Mall
Another entry at Singapore Malls, Orchard Road, Paragon Mall is home to nearly 200 shops and boutiques. From high-end stores like Burberry and Prada to big fashion names like Zara and H&M, Paragon Mall has something for every consumer.
The mall also has a kindergarten that allows parents to leave their children with licensed daycare specialists, to pamper their shopping. No less important than that, Paragon Mall also holds some amazing discounts for tourist customers. Among the various offers, perhaps the most interesting is that shoppers who spend more than $2,000 at the Mall are entitled to a free limousine ride to the location of their choice, no matter where they want in the city.
See Video How To Easily Send Money to 50+ Countries
VivoCity
VivoCity is the largest Singapore Malls and one of the most unique in Singapore, due to its distinctive architecture and the presence of a surprising range of entertainment alternatives. In addition to well-known retail brands such as Zara, Mango, Forever 21, and many more. VivoCity Mall is also home to the largest cinema in Singapore, The Golden Village.
VivoCity is also home to a rooftop amphitheater, an aerial park, a children's boating area, and even a rooftop swimming pool, making it one of the city's trendiest hangouts. In addition to all this, VivoCity Mall is also home to many fine restaurants overlooking the Port of Singapore.
Send Money Easily to Different Countries
How to Send Money to Hong kong
How to Send Money to China
How to Send Money to Malaysia
How to Send Money to Japan
Mandarin Gallery
For a more personalized shopping experience, Mandarin Gallery is the suitable Singapore Malls for you. Aimed at high-end consumers who exclusively buy luxury brands, Mandarin Gallery is home to some of Singapore's most exclusive designer boutiques.
In addition, the Mall has some of the best (and most expensive) restaurants in all of Singapore. In other words, the Mandarin Gallery is not intended for just anyone. However, if you like shopping, a visit to the mandarin gallery is likely to lead to a gala dinner.
Mustafa Center
One of the largest Singapore Malls, Mustafa Centre is accessible to visitors around the clock. In addition to being the only location in the city that rarely closes, Mustafa Centre is widely recognized as one of the best affordable shopping spots in Singapore.
Although the Mall is a bit far from Singapore's Orchard Road shopping district, it has quite a several favorite brands and special offers that you shouldn't have missed out on visiting Orchard Road. In addition, shopping at the Mustafa Center is not only limited to clothes, but it can also be from electronics to stationery to furniture, Mustafa Center sells a variety of products that may attract tourists.
Ngee Ann City
Ngee Ann City is one of the oldest Singapore Malls and offers a very diverse shopping experience to its customers. This mall has distinctive objects that are allegedly used as highway buildings and luxury goods but offers a variety of additions aimed at attracting buyers.
From the signature entertainment plaza of Takashimaya Square to Singapore largest bookstore, Ngee Ann City is a different experience from other malls on Orchard Road. Another department store in the city of Ngee Ann is a giant Japanese department store called Takashimaya. The store spans five floors of the Mall and sells almost everything you might need to buy.
Transfez App can help you transfer money abroad more quickly and efficiently. Transfez Business can also help your business in making transactions abroad. For those of you who want to send money to relatives who are abroad because they are studying, working, or traveling, Transfez will be ready to help. This app is available on Android as well as iOS.
Singapore is indeed one of the countries that have developed in terms of industry. It is proven that the Singapore Malls above have many beauties and uniqueness. Therefore, it is one that must be visited by anyone who have time to visit this country.