Speaking of Singapore, what comes to mind is the abundance of stunning skyscraper architecture and many tourist attractions. These factors led people from all over the world to this country to explore the beautiful places. Apparently, not only has many tall buildings, but the country also has a beautiful river. How could anyone miss this amazing river in Singapore? Some facts about the Singapore river include:
The Cavenagh Bridge is The Oldest Bridge Along the Singapore River
If you walk along the south bank of the river around Boat Quay, you can see a beautiful white suspension bridge. The river is named after Major General Orfeur Cavenagh, who was governor of the Strait Settlement from 1859 to 1867, the Cavenagh Bridge is the oldest bridge along the Singapore River that still stands in its original form.

The river was built in 1869 to connect the north and south banks of the Singapore River, the Cavenagh Bridge is also Singapore's first suspension bridge made of steel. Before this bridge was built, people could only move between the two districts through a long detour or by paying for a boat ride across the river.
This river Was originally designed to withstand a load four times its weight. If you look at it, there will be a lot of steel rivets and complicated suspension struts used in its construction at that time. However, due to the growing trade on the Singapore River in the late 1880s, the bridge was unable to cope with the increasing load. As a result, the Cavenagh Bridge was later converted into an overpass.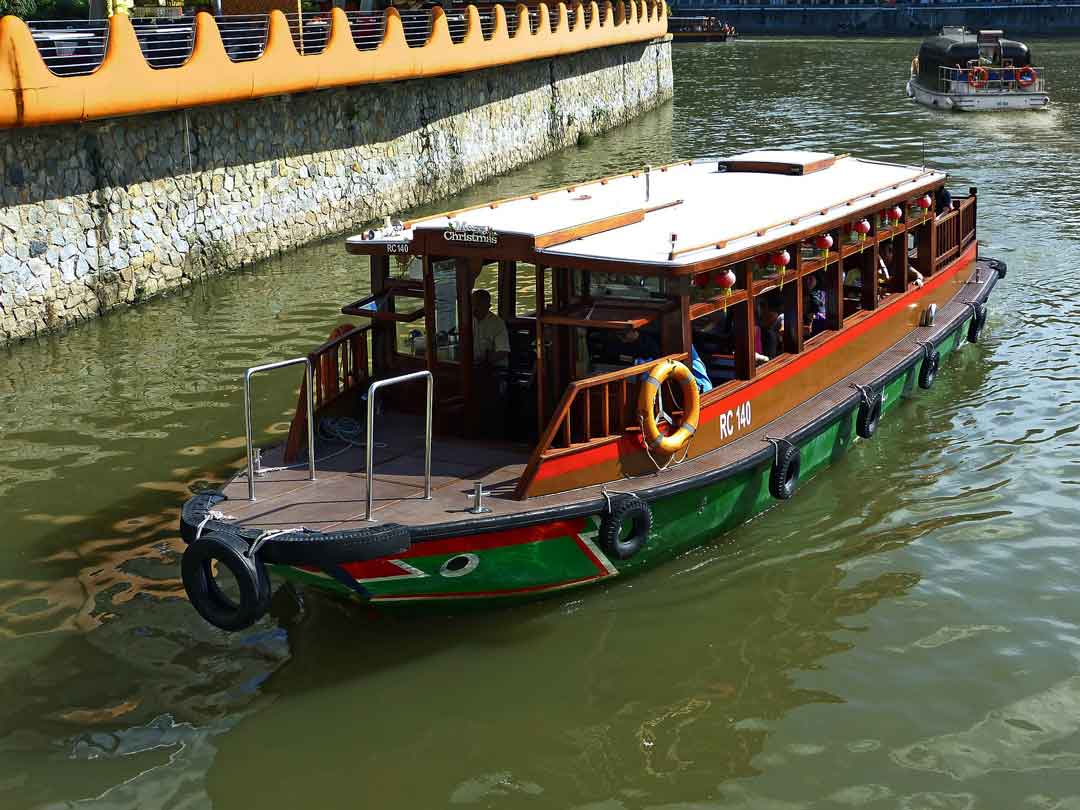 Singapore River Was Once the Domain of a Secret Association
If you look at the peaceful bend of the Singapore river today with its famous restaurants and beautiful water pools, then one would be hard-pressed to imagine.  There used to be stories that gang members would approach newly landed Chinese immigrants and offer friendship, help, and a sense of belonging. Due to their strong political and economic influence, they will also provide a much-needed network to find work here in the early days of Singapore's settlement.
In his golden age, this secret society was very powerful. Not only do businesses collect protection money, but they also operate gambling houses, brothels, and drug brothels. At the same time, they run such a profitable legitimate businesses as growing pepper and growing coffee.
The crime, especially drug use, has affected economic growth and also pushed many immigrants into a spiral of despair. It is addictive for the Chinese in Singapore and as a form of escape from the harsh realities of life. This dependence makes them have huge debts and little money to send back to their families. As they have grown, riots and social turmoil ensue when competing gangs clash.
See Video How To Easily Send Money to 50+ Countries
The Singapore River was Once Home to Two Famous Hawker Centres
Along the Singapore river, there were once two famous hawker centers that were also closed due to economic development. For example, the Boat Quay Food Centre and the Empress Place Food Centre, both built-in 1973, are on the other side of the river. The Quay Boat Food Centre is located next to the Fullerton Hotel (formerly the General Post Office) and the Empress Place Food Centre is located near the Victoria Theatre.
All of this is part of Singapore's Sanitation Programme to eliminate street vendors and improve sanitation. Both hawker centers offer a variety of delicious food at low prices and a much cleaner environment to enjoy the snacks there. There is also a beautiful sea view that will usually be suitable for office workers to go there, including family and couples on weekends.
To pave the way for the next phase of growth in 1983, the snack stalls at the two food centers were temporarily moved to the Empress Place Transit Food Centre, which was eventually demolished. It was a sad event for many Singaporean parents, who have fond memories of her. Fortunately, the strong street food culture there is alive and well.
Send Money Easily to Different Countries
How to Send Money to Hong kong
How to Send Money to China
How to Send Money to Malaysia
How to Send Money to Japan

Clarke Quay Near Singapore River
In addition, there is Clarke Quay which is the main pier for loading and unloading goods. There's also some of the best nightlife in Singapore, which is quite large. It is filled with festive music clubs and is even recorded on travel blogs as a must-visit place in Singapore for partygoers.
In the early 1800s, Clarke Quay's main business was said to be a dock for docking and unloading goods for depots along the Singapore River. There are Boat Quay and Robertson Quay, these three ports were instrumental in the development of Singapore's port industry and trade.
Around Clarke Quay and you can find rows of shops that have been converted into gourmet restaurants, dance clubs, and even karaoke bars. This shop used to be a warehouse, sales office, and shop, with the top floor accommodating the workers. After the delivery operation was gradually moved to Port Keppel, Clarke Quay underwent an overhaul and reopened in 1993 as a family attraction with S$25 million worth of retail stores, food and beverage outlets, and adventures covering a legacy from Singapore's past.
Transfez App can help you transfer money abroad more quickly and efficiently. Transfez Business can also help your business in making transactions abroad. For those of you who want to send money to relatives who are abroad because they are studying, working, or traveling, Transfez will be ready to help. This app is available on Android as well as iOS.
Through the story above, it can be seen that the Singapore river has many backgrounds and interesting facts. Therefore, visiting Singapore means sparing a time visiting the river. So that you wouldn't only see the beautiful scenery along the river. But you can also imagine all the stories behind it.